Mammoth Cave, KY May 2008
What better way to honor the Earth element than a cave? In 2008 we visited Mammoth Cave in Kentucky.I was surprised how much water is still flowing in the cave. You can't see it well in the first picture, but in the second you can just see where the water is falling. Everything is very wet down there. I loved visiting this cave. Though if your out of shape like me, please remember your going to do a lot of walking up and down hills! I didn't have the best shoes for this trip and my feet suffered for it.
I was in awe of all the fauna around the entrance and just the lovely smell of spring. Its truly an experience I will not forget. If your in the area, take the time to visit. Its definitely worth it! Inside there is a huge room with a circle pattern on the roof where water was once in the cave. I tried to get a picture but it was too dark in there. Its simply amazing though!








Entrance to the cave. Notice the water falling at the entrance.










Some other pictures from our trip.
Just down the road from Mammoth Cave is a dinosaur exhibit. We didn't get to see it, but I did snap this picture as we drove by.


I just thought this church had a certain charm to it.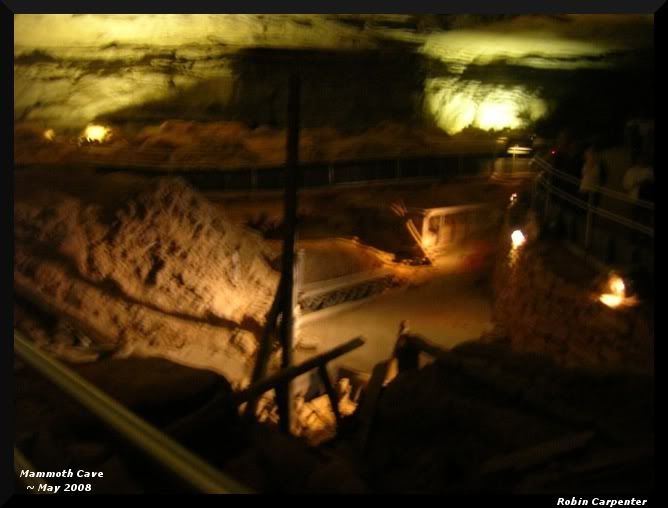 The dig site in the cave.
A pathway. Watch the jagged edge!
Sierra Belle really enjoyed the trip. :)
Mommy and daddy needed to take a break on the bench.